This is the
main page
for the
XTIDE project
, revision 2 cards. This card features the same basic design as the original XTIDE, using 74xxx logic parts, but adds support for a high speed UART, a larger eeprom, and built in "chuck mod" to improve drive performance. The uart allows the card to boot over a serial a link from a high speed modern computer, reading and writing to an .IMG file that represents a bootable hard disk image.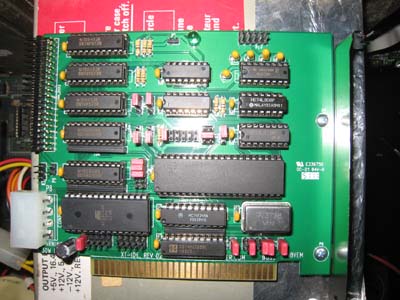 High resolution picture:
http://www.waste.org/~winkles/xtiderev2.jpg
BIOS:
http://code.google.com/p/xtideuniversalbios/
========
Schematic:
http://n8vem-sbc.pbworks.com/w/brows...am=XT-IDE%20V2
========
Bill of Materials:
Code:
Jameco#          Description                  Qty   Notes
25523 	       @ CAP,MONO,.1uF,50V,20%        13	- decoupling caps
33664 	       CAP,TANT,1uF,35V,10%           5	- for the 232 driver for uart
1945428        @ CAP,RADIAL,47uF,35V,         1	
45129 	       IC,74HCT688                    3
46316 	       IC,74LS04                      1
46375 	       IC,74LS08                      1
46607 	       IC,74LS138                     1
47466 	       IC,74LS32                      1
282642 	       IC,SN74F573N,DIP-20,           3
287144 	       IC,74F245,DIP-20,              1
288809 	       IC,UART,TL16C550CN,5V,DIP-40   1	
698576 	       DUAL EIA-232 DRIVERS           1
53605 	       HEADER,RT MALE,2RW,40 CONT,    1	- right angle IDE connector
109576 	       HEADER,.1"ST MALE,1RW,3PIN,    6	 
117197 	       HEADER,ST MALE,2RW,80 PIN,     1	- break apart for the 2x5's and single jumpers
41111 	       @ SOCKET,IC,40 PIN,.600",TIN,  1	
112214 	       @ SOCKET,IC,14PIN,DUAL WIPE,   3
112248 	       @ SOCKET,IC,DUAL WIPE,20PIN    7
112432 	       @ SOCKET,SHORTNG BLKS,RED,CLSE 16
112272 	       @ SOCKET,IC,DUAL WIPE,28PIN    1
526205 	       @ SOCKET,IC,16 PIN,390261-4,   2
133006 	       SOCKET,OSC.CRYSTAL,14POS,4-PIN 1	- special oscillator socket
117568 	       CONNECTOR,DISK DRIVE,MALE PCB  1	- molex power plug
325358 	       OSCILLATOR,7.3728MHZ,FULL CAN, 1	- high speed clock
333949 	       @LED,GREEN,572NM,T-1 3/4       1
691104 	       @ RES,CF,10K OHM,1/4 WATT,5%,  6
690785 	       RES,CF,470 OHM,1/4 WATT,5%     2
857160 	       MOLDED SIP,10PIN,BUSSED,10K,   3
2094389        SCREW,PAN HEAD,PPN4-40X1/4     2 (only available in bags of 100-steal some from another ISA card or go to home depot and get some #4-40 1/4in screws)

+ from mouser.com:
556-AT28C64B   Atmel EEPROM                   1	
534-9202       Keystone bracket, ISA          1
========
Some notes for building the card:
* SIP resistors are mounted with the printing facing down, toward the ISA connector.
* 13 decoupling caps are not polarity sensitive
* 5 caps around the 232 driver IC are polarized. Note the + mark on the PCB must match the + on the cap
* single large cap is also polarized
* LED is polarized, it has one side flattened. Match the flattened side of the LED with the PCB silkscreen
* Pin 1 for the IDE connector is down, closest to the ISA connector
* Pin 1 for the 9 pin serial header is on the left side (look for the square hole on the back of the PCB)
* The card can self-program the eeprom, so don't worry
about
needing an eeprom burner to get a complete card. In fact the card can actually function AS an EEPROM programmer; the
software
available with the BIOS allows for for ROMs between 8 and 64k to be written.
=========
Jumper settings - (incomplete)
Settings are available on the schematic.
Some useful ones are:
(Lower right corner)
JP1: 1=ROM enable
JP2: 1=EEPROM Write enable
P11 controls the base address of the ROM decode.
00111=E000h
00101=E800h
01011=D000h
01101=C800h
P10 - To the left of the UART, controls the IO address of the card. These jumpers are horizontal.
From top to bottom, jumpered as:
11100 = 300h
Note: Changing the IO address requires a BIOS re-flash so the BIOS knows where you moved the IO space to.
P9 near the IDE connector is a power enable/disable jumper to pin 20 (Vcc) If you are using a DOM or other low power device that can accept 5v on pin 20 to power the device itself, put a jumper on P9. then you won't need an external power cables.